Coconut oil for make-up removal. How to cleanse skin with no make-up remover?
Make-up residues and toxins may worsen skin condition that is why you should never skip on the daily make-up removal. Some use micellar liquids or cleansing gel. While others, choose more natural make-up removal with coconut oil.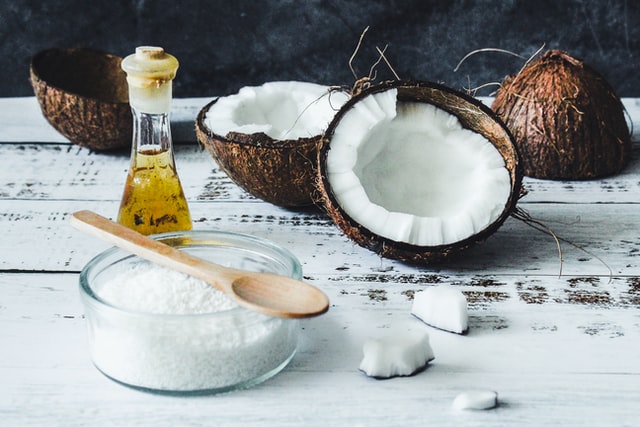 When we discuss skin care, we usually mean nourishment and hydration. However, complex care takes place only when we thoroughly cleanse skin. The toxins build up during the day, incorrectly removed make-up, excess sebum secretion — it all has an unfavourable impact on the health and appearance of our skin.
Make-up removal with oils
Quite an interesting solution is a make-up removal with oils. It is an amazing alternative to the usual skin cleansing methods. It is perfect for the delicate and sensitive skin. OCM (Oil Cleansing Method) combines make-up removal with skin care. Natural oils – used instead of cleansing liquids or gel — are way more gentle and contain lots of valuable nourishing components. Thanks to it, make-up removal with oils has one important advantage: no skin irritation. Is it possible to cleanse skin with oils? Absolutely. The rule here is that the fat (oil) is best to dissolve fat (sebum). It makes make-up removal with oils effective.
Which oils for make-up removal?
Well executed make-up removal with oils is based on skin cleansing with appropriately chosen oils. Not every oil is suitable for it because some oils may clog pores. The base for OCM is castor oil mixed with any other oil of choice. The most often recommended oil for make-up removal is coconut oil though you can also choose jojoba or almond oil. Complement it with a bit of water or herbal waters, for example, rose. Nothing more needed.
Coconut oil for make-up removal
It is coconut oil that is the most often used for OCM. It is probably due to its price, availability and specific texture. Huge significance holds also coconut oil properties. Coconut oil has a form of light butter which only at contact with heat melts and perfectly absorbs in skin ensuring gloss and providing moisture. Coconut oil for make-up removal is best to combine with other oils — the richer the mix the better for the skin.
How to perform make-up removal with coconut oil?
Take a bit of the mix of coconut and castor oil base. Heat it up in your hands then apply to washes face. Perform few minutes massage which will allow you to remove toxins and at the same time will stimulate blood circulation in the skin. When it comes to the eyes, you can take some more of the oil mix and use some cotton pads. After few minutes just remove excess coconut oil off your face, you can use, for example, cotton towel or wet wipes. If you do not feel fresh enough, you can finish by using natural soap, e.g. from Aleppo (other may cause dryness).