Capture Totale Eyes Essential under eye cream from Dior
An under eye cream Eyes Essential from Dior is a component of Capture Totale collection. This cosmetic can be accompanied with One Essential serum for face care. Both products are sold in red, little jars. The capacity of the first cosmetic equals 15 ml, whereas, the capacity of the second cosmetic equals 30 ml.
Eyes Essential from Dior is able to smooth fine lines that tend to create around eyes area. Additionally, the cream moisturizes and strengthens collagen fibers. Due to regular application, dark circles around eyes and well as swellings become gradually reduced. The skin turns into being smooth and firm. Capture Totale Eyes Essential cream may be applied during around eye skin massage. While performing such a treatment, eyelids become lifted, the skin becomes more tautened, and eyes look as if they were bigger. When it comes to the ingredients used in Eyes Essential cream form Dior, the cosmetic comprises of hibiscus extract. This substance supports not only collagen production but also rebuilding processes of dermis cells.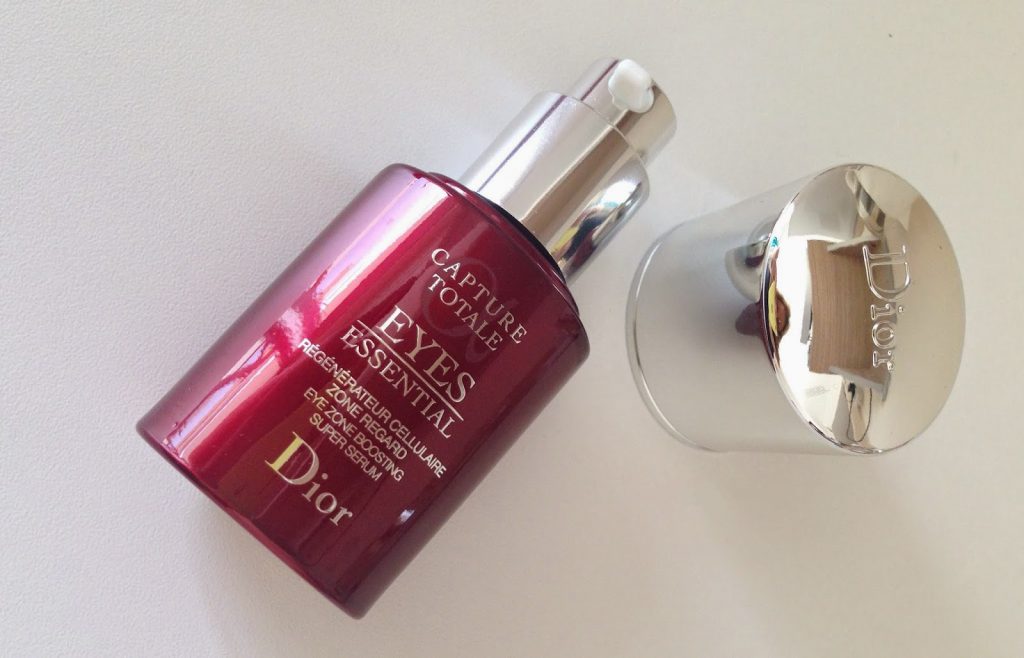 How does Capture Totale Eyes Essential cream application look like and how to perform skin around eyes massage? Before the cosmetic is applied, one has to prepare the eyelids for the oncoming care. In order to do it, one has to use a thumb and an index finger to massage brow-bone, lifting eyebrows at the same time in three places: near a nose, in the middle and in the outer parts. Next, a small amount of the cosmetic should be put under eyes, patted with fingertips and then, again one has to massage brow-bones. However, this time the massage should be performed with Capture Totale Eyes Essential use.
When should you start applying Capture Totale Eyes Essential from Dior? If you spend long hours in front of the computer, your eyes are exposed to tiredness and the skin is simply weakening. Basically, skin condition deteriorates also because of harmful substances consumption, such as nicotine or alcohol. Allergies, sleep deficiency or strong cosmetics application may lead to bruises or, so-called bags under eyes formation. Capture Totale Eyes Essential cream should be applied also when you are older than 30 since it is the very age when first wrinkles become visible.