Can't help falling in love with Nanoil!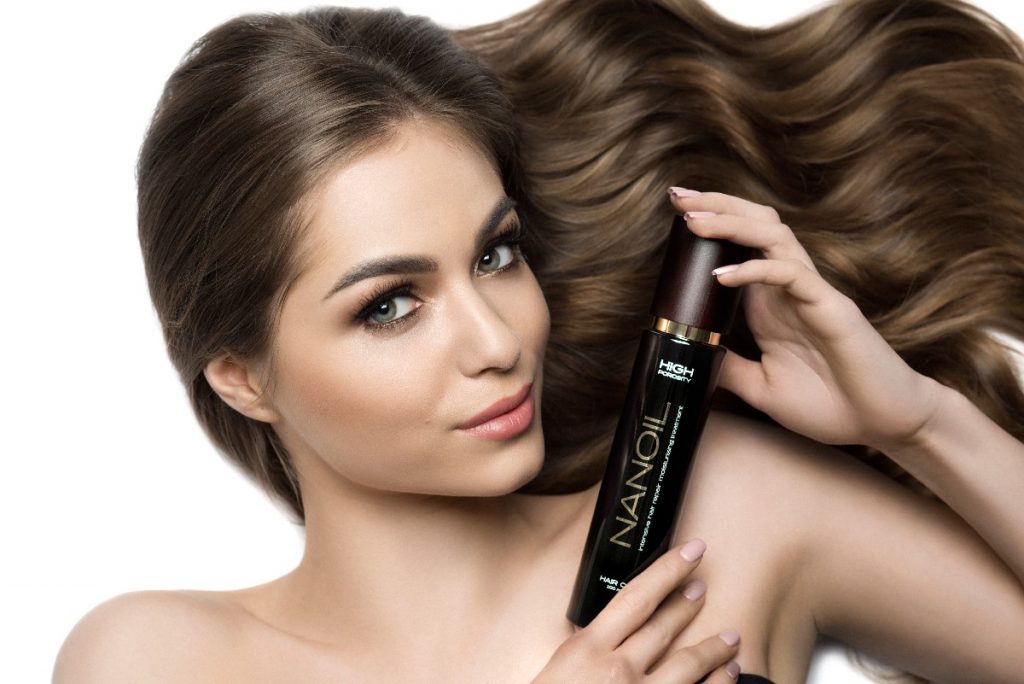 Natural oils have taken over the cosmetic industry and will not vanish because they have proven to work as irreplaceable repairing serums. Fatty acid molecules included in any natural oil act as the best renovation team, repairing defects on the surface and inside of hair.
Cosmetic market offers a huge variety of products that contain natural oils. However, we must bear in mind that oils are unequal in quality. Apart from valuable substances, most products include also the whole bunch of chemical and comedogenic substances, parabens, silicones and dehydrating short-chain alcohols. The majority of such cosmetics is unsuitable for scalp. Therefore, oils cannot fulfil their natural function: repairing hair stem but most of all – reinforcing and regenerating hair bulbs. After all, health and beauty of your hair is hidden in the bulbs.
There is one hair oil that stands out among others. It is the product of Renaissance – excellent, unique, versatile. It sheds new light on hair care. Moreover, the product is so easy to use that you can't help falling in love with it. Nanoil hair oil comes in 3 different versions. Each of them is dedicated for different hair type. You can find detailed information on each version of the oil on Nanoil website. Therefore, identifying your hair type will be a piece of cake. Nanoil hair oil will not go unnoticed. Thanks to this iconic product, you will no longer complain about your hair condition.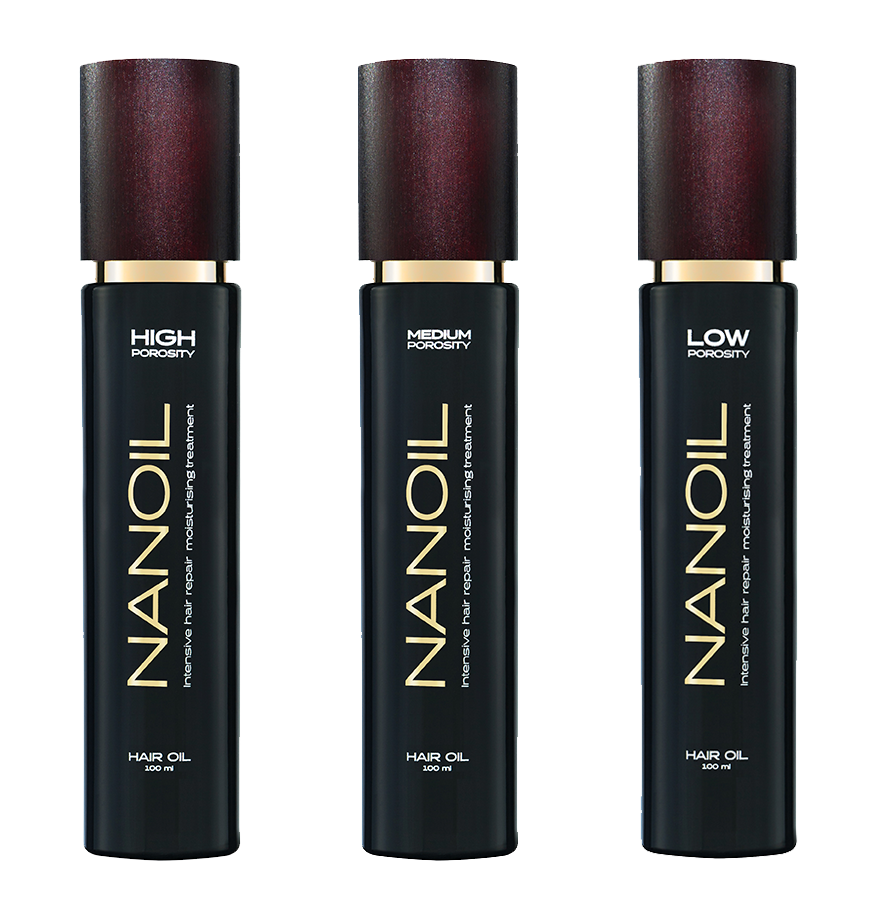 Why will you fall in love with Nanoil hair oil?
Nanoil is the only hair oil that matches hair type. As a result, it provides thorough care – suitable for the particular hair type. Three versions of the product are synchronised with our hair porosity.
Nanoil hair oil delights with a variety of natural oils used in each and every version. Drug store oils contain two or three oils which are improperly chosen whereas Nanoil includes as many as six or more oils (depending on the version). Each oil fulfils different function and delivers different ingredients that are essential for healthy growth and beautiful looks. All the oils included in the product complement each other and create a perfect synergy in hair care.
Nanoil hair oil has a beautiful design. The bottle is elegant and exclusive. The product can work as a decoration of every bathroom or dressing table. High-quality packaging means high-quality product that is captured inside the bottle. Nanoil has been created with utmost care and attention to detail. We are not afraid to claim that it is a hair cosmetic of the most beautiful design.
Nanoil hair oil amazes not only with the amount and quality of natural oils. You will also love it because of unique innovative components which boost hair growth and thicken the hairdo. Thanks to the unique baicapil and kerastim complex, hair restores health as well as becomes long and beautiful as it has never been before.
Nanoil hair oil owes its versatility to the variety of uses. It works as a hair mask, healing treatment for scalp and hair bulbs, serum for hair ends or leave-in spray conditioner. Nanoil is able to replace numerous hair products. Feel free to get rid of products abounding in chemicals, parabens and silicones. Replace them with one safe and multifunctional Nanoil.
Application of Nanoil hair oil offers lots of possibilities. There are numerous ways of using the cosmetic. You can apply it exclusively to hair (wet or dry) or to the scalp. Leave-in for a few hours and wash off or use as a serum for hair tips (without rinsing). It will be an excellent hair beautifying and shine-boosting product, therefore you can apply it several times during the day to dry hair ends. You may as well treat your hairdo to more intensive repair – spread Nanoil onto damp hair prior to blow-drying.
Hair benefits. You will spot the difference at once. Nanoil hair oil beautifies hair in to time. If you use it regularly, it will deliver amazing looks but also health and regeneration from hair bulbs to tips.
Efficiency – the quality appreciated by every woman. Nobody likes it when a good product runs out quickly. Nanoil hair oil will not disappoint you in this respect. You can enjoy the product for a few months.
18 Comments "Can't help falling in love with Nanoil!"
I've discovered it pretty recently, and to be more exact, my hairdresser told me about it and I ordered it as soon as I got home. I have the one for medium porosity hair and love what it does to my hair.

I have the one for high porosity hair and I am almost done with the treatment – the oil is running low but the improvement is huge! I went from high to medium porosity hair that's why the next nanoil i'll purchase will be for medium porosity

natural oils is the best thing for hair care but they must be of high quality

I love hair after oiling, it's so soft and shiny! <3

Me too but my hair looks great only for a while, it gets greasy and lifeless very quickly

what type of oil are you using? Maybe it doesn't suit your hair or try out other methods of oiling

maybe yiu just apply too much oil at once

every hair maniac's must-have!

I used it once at my friend's house and it's really good, it has a nice consistency and leaves a pleasant scent on the hair. Im not sure if I wanna buy it though..because of the price obviously

It's not cheap yeah but I am willing to pay for such a good efficiency and quality

In my opinion, the price is adequate to the effectiveness and quality. Oiling with this oil really helped me and I used to have serious problems with hair and scalp

personally, I like the redken bottle more but the oil itself on the hair is not that good, but the medium porosity hair nanoil is perfect! Very positive

I am using the black Redken and I am very happy with the effects

Thank you for the post, I was just looking for an oil that can be massaged into the scalp withiut overburdening the hair

what shampoo do you use to wash out the oil?

It's best to use a gentle, SLS free shampoo but I assume that all hair maniacs use only this type 😉

I recommend you take the orosity test on their website

I compared this oil to the ingredients of other oils I tested so far and no wonder that nanoil had such great ratings! I am about to finish kerastase and the next in line will be nanoil