Bumble and Bumble Creme de Coco. A shampoo, a conditioner and a mask with Coconut oil
The beloved Coconut oil has finally found a place in the series of an iconic brand Bumble and Bumble. Creme de Coco shampoo, conditioner and a mask is an ideal set for the coconut-scent lovers. How do the cosmetics work?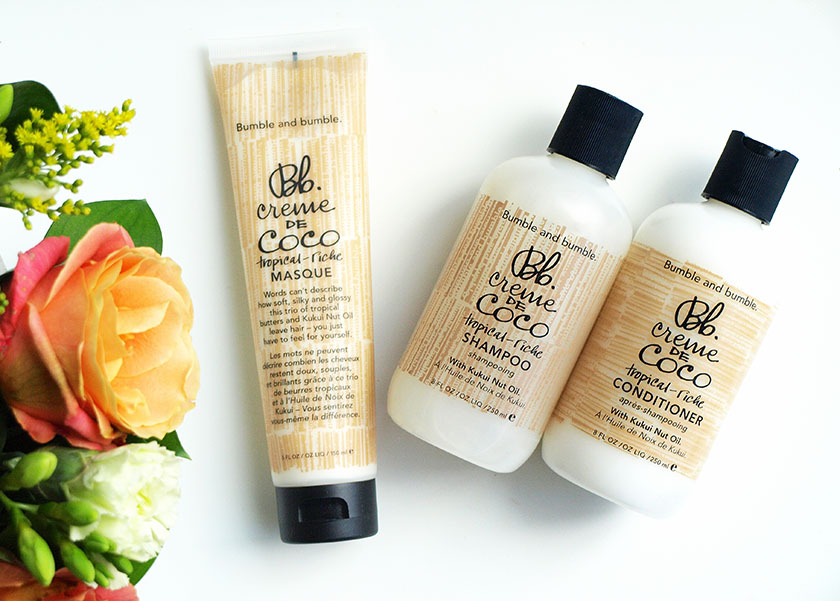 Some people claim that buying the whole series of hair care products is not necessarily a good idea. However, it does have its advantages. When choosing cosmetics of the same brand we can be sure that they are compatible and certainly do not contain any ingredients that could react badly with each other. Such comprehensive care is ensured by Bumble and Bumble Creme de Coco products. What properties do they have? For what hair type they will be most suitable? How to use them?
Bb. Creme de Coco shampoo
The first one to describe is the moisturizing shampoo. It is recommended mainly for normal and weak hair and for everyday use. The shampoo from Bumble and Bumble not only cleanses the hair and scalp but also provides freshness and shine. Due to the content of sea algae, murumuru butter and coconut oil, it nourishes hair roots, protects hair from ageing and brings relief to the irritated scalp.
Bb. Creme de Coco conditioner 
The second step in a hair care routine is to nourish the hair, in this case, we are using the Bumble and Bumble conditioner. The product smells like a fresh coconut and needs to be rinsed out after a couple of minutes. It complements the effects of the above-mentioned shampoo. The conditioner moisturises the hair, provides essential nutrients and increases hair's elasticity. The product has been enriched with murumuru butter and coconut oil and it only takes two minutes to take care of our hair.
Bb. Creme de Coco hair mask 
Last but not least, it is worth using a hair mask also from the Creme de Coco series. The product is based on three tropical oils (butter): shea, murumuru and mango. Even though there is no coconut oil, the in-depth regeneration is provided by keratin, panthenol and kukui oil. Owing to such a great composition, the product provides maximum nutrition and hydration. The mask should remain on the hair for a minimum of 7 minutes to give the strands a beautiful glow and silky softness.