How to apply and which make up foundation shadow to pick? Studio Fix Fluid SPF 15 from MAC
Choosing the appropriate make up foundation can make your head spin. There are so many colours, shades, names, types and textures that it is almost impossible to comprehend. Read the article and then you will learn, how to properly pick the right shadow of a foundation and the way of its application. Maybe, MAC Studio Fix Fluid SPF 15 will appeal to you.
Studio Fix Fluid SPF 15 from MAC
The cosmetic of MAC brand is of multidimensional working. Firstly, it behaves as any make up fluid, so it mattes and covers small skin imperfections. Secondly, Studio Fix Fluid protects face skin from the solar radiation since it contains SPF 15 filter. Thirdly, this product is easy to apply, holds long on face skin and smooths it. Next, there are 38 shadows available and these are mainly beige colours, porcelain and dark browns. Finally, Studio Fix Fluid is locked in a glass bottle of 30 ml capacity.
How to apply a make up fluid and which colour to choose?
Before talking about the application and the shade, you have to know which properties and ideal make up fluid should have. Most cosmetics are picked accordingly to the needs and type of skin, properties and consistency of the product. All the above-mentioned features need to be cunningly combined. It is not an easy task, however, it possible to work out. Let us check. For example, oily complexion needs to be matted, in other words, it requires to eliminate the excess of produced sebum and ameliorate the unattractive acne marks. That is why, the prefect make up foundation, for this kind of skin, must contain matting and antibacterial properties. What is more, the fluid should be able to eliminate the oily layer formed due to the excessive production of sebum. Last but not least, the consistency of the product should be light and oil-free. However, remember that the no-blocking skin pores foundation does not exist. For that reason, while doing the make up removal, cleanse and exfoliate epidermis thoroughly.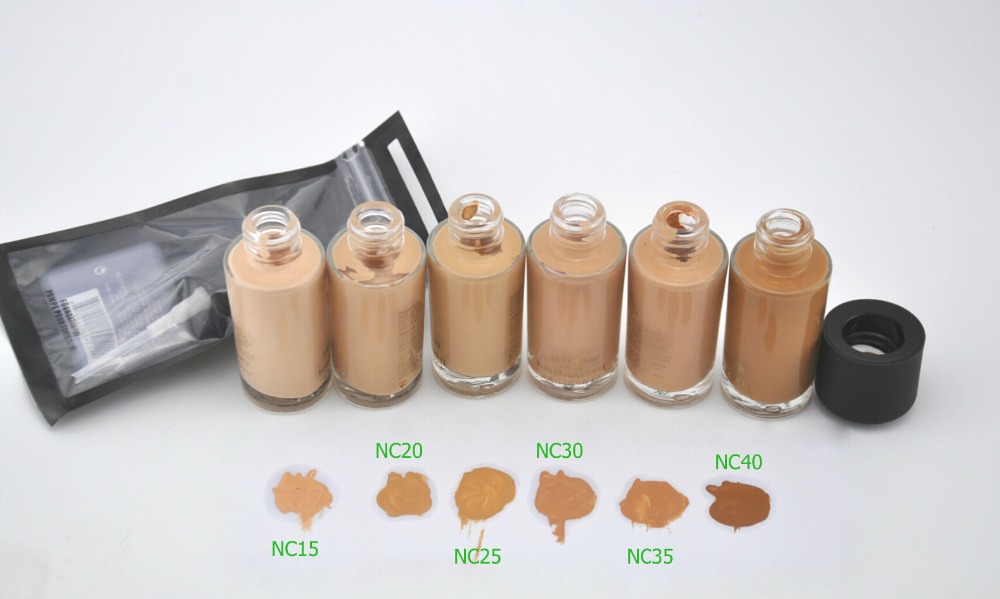 The cosmetic stores are full of make up accessories and brushes, the aim of which is to make the make up application easier. Which of these are going to work the best with you? Choose the big and flat brushes. These enable you with face stamping. Why stamping not spreading? The answer is easy. The make up foundation should not be spread since it produces unattractive effects in a form of stains and smudges. In the similar way, you can use make up sponges or other soft make up applicators. It is also worth mentioning, that the make up brushes and applicators have to be systematically cleaned and disinfected. In a  case, you do not have the experience in the make up accessories wielding, use your fingers. It is enough to pat the make up fluid into the skin with the aid of your fingers tops.
And what about the shade? Basically, the shade cannot be different form the skin tone of yours. What is more, it should be a little bit brighter than your complexion. It is advisable to test the make up foundation shade on your jaws first. Apply several shades of a cosmetic and wait for a few hours. During this time, the cosmetic should get absorbed. Certainly, the shade which become invisible is the one you want to wear.