Best Anti-Redness Serums. Which One Will You Choose?
Redness-prone skin requires and deserves to be given special treatment. To help it calm down, use only mild care products (including cleansers) targeting specific skin concerns. Obviously, choosing anti-redness face serum would be the best option but… which one should you choose when there are so many of them in the drugstores?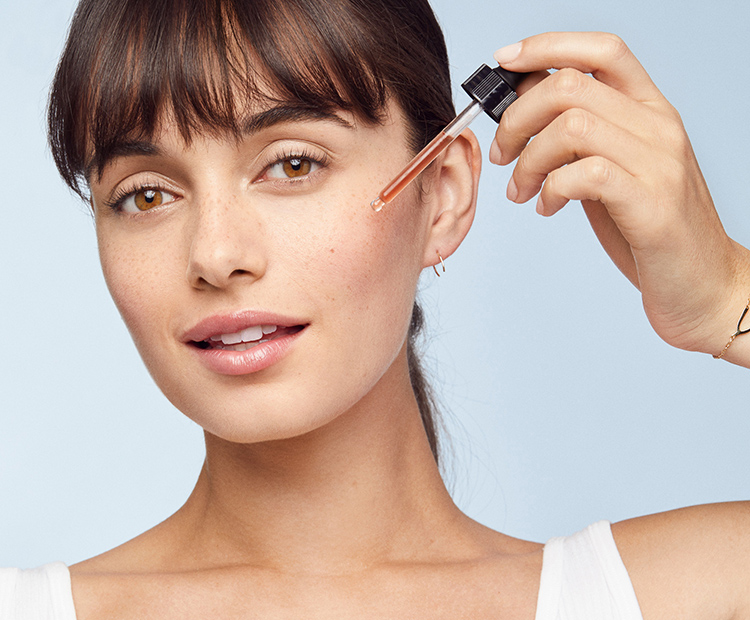 Finding the right care product is the key issue. Whether you manage to achieve the satisfying results depends on the cosmetics your daily beauty ritual is made up of. And this is especially important in the case of demanding skin types like those prone to redness and irritation.
Redness-prone skin – profile
What should you know about redness-prone skin before shopping for care products? It's time to learn some basic facts concerning this skin type.
Redness-prone skin is relatively thin and really delicate, thus extremely easy to irritate. The blood vessels are located near the skin's surface which is one of the major reasons for facial redness. This reddens may also be a symptom of erythema, but that's not always the right assumption. Moreover, redness-prone skin is characterized by spider veins, which is a common name for broken blood vessels. It's also worth realizing that the more potentially irritating factors you expose your delicate skin to (e.g. the sunlight, high temperature, hot and spicy food, stress), the more broken capillaries will appear on the face. Luckily, you can prevent all of the adverse effects by introducing a good serum to your daily beauty routine.
What should an anti-redness face serum be like?
A good anti-redness face serum is able to protect the skin from irritation, redness and broken capillaries. But how can you tell that the serum is good? Put simply, look for a lightweight formula made of quality ingredients.
The formula of a good face serum is non-greasy and enriched with irritation-relieving ingredients, e.g. linden extract or witch hazel extract. It's also a good sign when the product you want to apply on redness-prone skin contains some substances responsible for strengthening the walls of blood vessels, which in turn reduce redness, e.g. horse chestnut, arnica or ginkgo extract. Finding vitamin C and vitamin K on the list of ingredients is another good sign, promising that the serum will work as expected.
Note! An anti-redness face serum formula should be free from: St. John's wort extract, essential oils, alcohol, SLS / SLES ingredients.
THE BEST ANTI-REDNESS FACE SERUMS
We're here to offer a helping hand to those who don't have the time to spend in the drugstores and analyze the long lists of ingredients. We've reviewed four best anti-redness face serums whose formula, texture and effects are tailored to the needs of sensitive skin prone to redness and irritation.
See the best anti-redness face serums!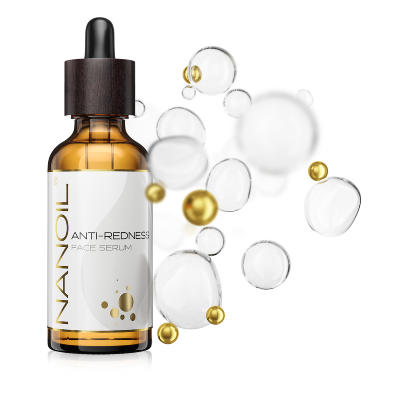 1. NANOIL ANTI-REDNESS FACE SERUM (50 ml)
This unrivaled among soothing care products, Nanoil Anti-Redness serum offers as many as 4 plant-derived extracts – horse chestnut to strengthen the walls of capillaries, linden tree to soothe irritations and prevent inflammation, Boerhavia Diffusa to fight free radicals and cypress to supply skin with water and nutrients. When combined together, these naturally-derived substances leave skin smoother, calmer and brighter. Owing to the unique and safe formula, Nanoil serum is the best anti-redness product to:
reduce redness and irritation
constrict and strengthen the walls of blood vessels
protect the skin and make it less reactive
refine skin's texture and rejuvenate
leave skin relaxed
This serum is designed for professional at-home skin treatments that literally everyone can reach for – not only the people whose skin is prone to redness but also those with sensitive, reactive, easily irritated skin affected by rosacea. Being a do-it-all cosmetic able to deliver promised results is what makes Nanoil Anti-Redness Face Serum win the top place in our anti-redness face serum ranking.
product website: www.nanoil.us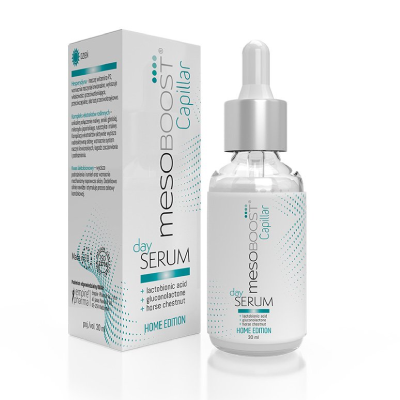 2. MESOBOOST CAPILLAR DAY SERUM (30 ml)
Mesoboost Capillar is a gel face serum for broken capillaries, designed for sensitive and redness-prone skin. This serum should be a part of a morning skin routine, applied as the last one to maintain and boost the effects delivered by other care products. The very effects are brought out due to the blend of a few dozen ingredients like hyaluronic acid, lactobionic acid, horse chestnut and ginkgo extract, rice bran oil, olive oil, hesperidin, cloudberry raspberry extract, mountain arnica extract, witch hazel, butcher's broom… Indeed, the list of ingredients is pretty long but this makes Mesoboost Capillar serum able to:
reduce redness
minimize the appearance of spider veins
soothe irritations and deal with inflammation
refine skin's texture
On one hand, such a big number of extracts and nutrients seems to be a positive thing about the product, however, after thinking about it, each ingredient increases the risk of a reaction. In this case, it's advised to run a patch test before introducing the serum to your beauty routine.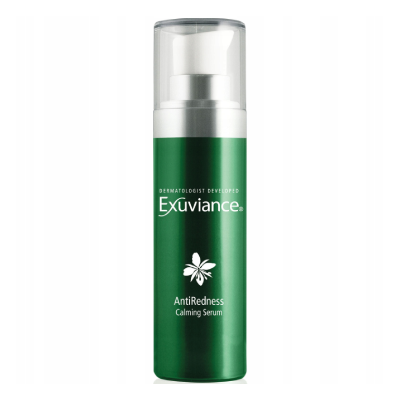 3. EXUVIANCE ANTIREDNESS CALMING SERUM (30 ml)
Another interesting offering is Antiredness Calming Serum from Exuviance formulated with a few plant extracts and ingredients made in a hi-tech laboratory. The biggest disadvantage of this face serum is the exorbitant price. Still, horse chestnut extract, willow extract, licorice and white tea may look pretty tempting. Interestingly, this anti-redness serum is also enriched with ingredients like bisabolol, peptides, lactobionic acid, algae extract, zinc and even… caffeine! We truly believe that such a rich composition may appear to be too much to handle for sensitive skin. However, those whose skin tolerates Antiredness Calming Serum well can expect it to:
deal with and prevent inflammation
constrict and fix the walls of blood vessels
erase discoloration and leave skin even-toned
Why aren't we convinced that this is the best serum for redness-prone skin? There are a couple of reasons. First, the high price. Secondly, the long list of ingredients. Thirdly, a small size which means that you probably need to repurchase the serum again to finish the treatment.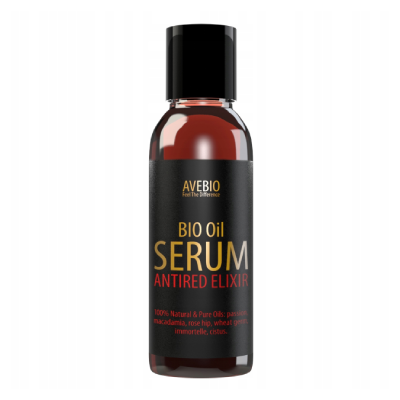 4. AVEBIO BIO OIL SERUM ANTIRED ELIXIR (50 ml)
Here's another good-looking face serum designed to soothe sensitive and redness-prone complexions. Because it's oil-based, the serum is slightly thicker and more oily than its above-mentioned alternatives. Including as many as 6 plant-based oils: passion fruit oil, macadamia oil, rosehip oil, wheat germ oil, dog tag oil and cistus oil, Avebio Bio Oil Antired Elixir appears to be a real treat for the fans of natural care. It gets more interesting after realizing that apart from these extracts, there are no other ingredients used. Even though the serum is 100% natural, it doesn't mean that it's efficacious. When used regularly for a longer period of time, this anti-redness serum is promised to:
soothe irritations and leave skin relaxed
lock water inside the skin
reduce puffiness, erythema, redness
prevent the walls of capillaries from breaking
This anti-redness face serum is popular among the natural care fans. However, its oil-based formula makes some skin types oily, which isn't always a desired effect – and this needs to be taken into consideration.
Which face serum for redness will you pick?
Naturally, these aren't all anti-redness face serums out there, yet we believe they are the most interesting ones. Most of them are available online with convenient home shipping, but you can also try finding them in your local drugstores. We're curious which face serum you'll choose!